Intimate Inn in Mexico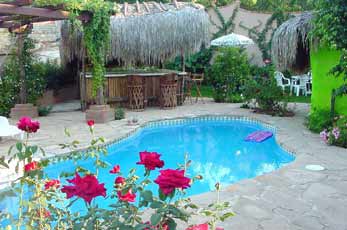 Nestled in the foothills of the Sierra Madre this small gracious hotel offers superb mountain views and consists of a 4000 ft. main house surrounded by a magnificent cactus garden, colonial fountain and historical ruin.

It includes two exquisitely furnished and finished casitas, each with air conditioning, a fireplace, baths with jacuzzi, fully equipped kitchen, skylights and over-head fans. Also a 350-sq.ft studio which is air-conditioned, has a fireplace, overhead fans, small kitchenette and large bath with Jacuzzi. This studio apartment enters onto a patio & central cactus garden with fountain.

The two casitas are adjacent to a lovely terraced landscaped courtyard 1,400 square feet with soft night lighting, shaded by a beautiful 300-year old mesquite tree and a staircase leading to a private guest entrance.

The guesthouse area connects through an elegant arched entranceway to a beautifully landscaped 6,300 sq ft garden with landscape lighting, pool, 100 sq ft palapa bar, hot & cold water, overhead fan, lights, bar frig, large stone barbecue and fire pit (in ground slow cooker) surrounded by 4 stone benches, Property also includes a 168 sq ft palapa exercise room, 180 sq ft vine-covered ramada, 2 large lawn areas and the garden area also has private street entrance.

This elegant new Spanish Colonial Inn is ideally located at a pleasant 5 minute walk from town which offers a good year round climate, history, culture, excellent public transportation, an airport, ecotourism and is only 1 hours' drive from the beach.

$410,000 or $530,000 with all furniture and fixtures.



Status: Active
Property Type: Resort
Country: Mexico
Number of Rooms: 3 Apartments
Price: $410,000

Location: Central America/Caribbean
Resort Type: Bed and Breakfast
Contact