Villas Del Rey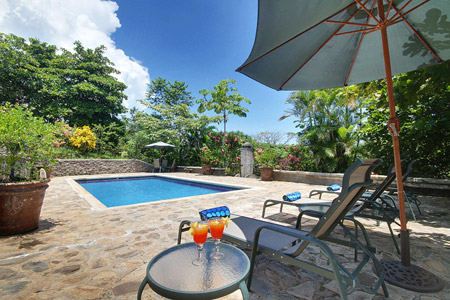 | | |
| --- | --- |
| | |
| | |
| --- | --- |
| | |

One of a kind Luxury Hideaway with impressive expansion potential.

Welcome to your private luxury resort! Situated on a 20 acre nature preserve boasting a refreshing and relaxing tropical climate with breath taking forest vistas and sunsets over the beautiful southern Pacific coast.

Villas del Rey offers 7 private villas ranging in size from 1430 to 2160 sq feet; each with a private walk around patio and ultimate privacy on a 1/2 acre lot. Lush tropical vegetation filled with rich abundant plant life, colorful display of flowers, gorgeous array of butterflies, colorful birds and several families of monkeys surround the property. In addition, guests are welcome to select fruits from our mango, orange, lime, guanabana, guava, starfruit, cashew, and avocado groves which are scattered throughout the resort. Guests can also enjoy the many lit walking trails throughout the resort which are perfect for exercising, leisurely strolling, bird watching or animal viewing.

Enjoy a cocktail by the pool, or a snack from the restaurant, while you leisurely soak up the sun!



Status: Active
Property Type: Resort
Country: We are right in the middle of everything in Costa Rica; airport, national parks, beaches, Jaco, Puntarenas and the fairy, Monteverde, and everything is within a 1 day trip!
Property Size: 20 Acres
Number of Rooms: 10 Homes, 18 bedrooms total
Improvements, SQ. FT, Meters: Over 22,000 Sq Ft.
Distance from Airport: 30 minutes
Carriers: All major air carriers
General Amenities: Swimming, gym, surfing, zip lining, adventure tourism,
Price: $5,980,000

Location: Central America/Caribbean
Resort Type: Medium Resort
Services Provided: Pool, gardens, restaurant, luxury villas
Contact