Stone Wind Retreat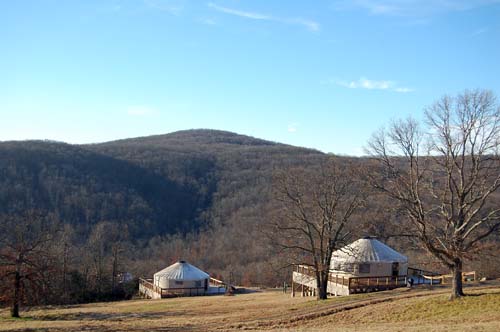 StoneWind Retreat, on the very top of a mountain midway between Fayetteville and Fort Smith, Arkansas in the Boston Mountains, is a successful business in a magnificent setting, with incredible mountain views, immediate access to the Ozark National Forest, 100+ acres for expansion, and easy access to two cities and two major airports. With well developed internet marketing, a successful web site, and dedicated repeat guests, this successful mountain-top resort with its beautiful conference center and elegant cabins operates year round. It can be operated "as is" or, with access to the National Forest, it can be expanded to a fall and winter hunting resort.

160 mountain top acres with beautiful views and approx. 100 acres suitable for building expansion with infrastructure in place.

8 Elegantly Furnished Yurt Cabins (5,616sf) on 40x40' Decks with individual Hot tubs

12,800sf of cabin decks overlooking the mountains.

1600sf Conference Center with commercial kitchen; 2 restrooms, one handicap accessible.

800sf Office, Laundry, Workshop

400sf "well house" with mountain views ready for conversion to cabin.

1584sf Residence

Boundary Access to the National Forest

Year Round Operation

4 Unique Stone Gardens

Utilities: electric central HVAC; Mountainburg City Water, propane gas-flame log stoves, gas grills; cell phone reception; internet access.

Established internet marketing program; web site and branded name "StoneWind Retreat" included if desired.

All the benefits of the country but an easy drive to the city.

Price: $1,700,000.



Status: Active
Property Type: Resort
Country: USA
Property Size: 160 acres
Number of Rooms: 8 cabins
Improvements, SQ. FT, Meters: 10000sf including 5616sf of cabins; 12,800sf cabin decks; 1600 sf conference center; 800sf offices, laundry, workshop; a 400sf building ready for finish out as cabin.
Distance from Airport: 45 miles
Carriers: All Major Airlines
General Amenities: Central HVAC; City Water; fully furnished kitchens; elegant cabin furnishings; nine (9) 4 - 7 person hot tubs; 3G WIFI; nine (9) Gas Grills; Washers/Dryers in each cabin, HDTVs.
Price: $1,700,000

Location: North America
Resort Type: Bed and Breakfast
Services Provided: Massages
Contact